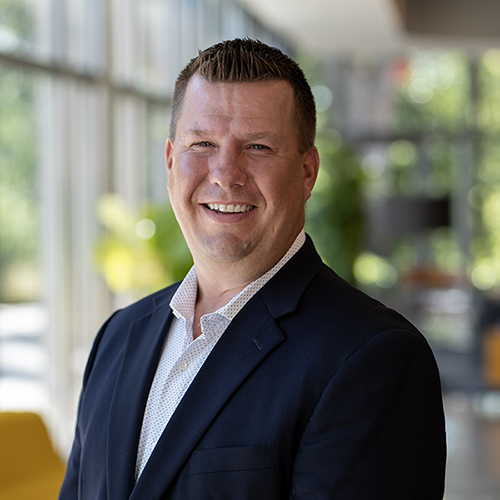 Expertise:
Leadership
View All People
Andrew Mielke, AICP
Minneapolis, MN
Andy has more than 20 years of experience working on a variety of transportation planning projects for cities, counties, and state Departments of Transportation. His work focuses on traffic incident management, freight and corridor studies, transportation plans, and train whistle quiet zone studies. Andy is a thorough project manager who is dedicated to the overall success of any project. In addition, he is experienced in dealing with the public and using a variety of presentation techniques. Andy serves as the Division Lead for SRF's Regional Offices.
Freight Studies and Policy. Andy also leads many of SRF's freight studies and freight policy projects. Coupled with his expertise on train whistle quiet zones, Andy has a strong understanding of railroad operations and policy issues. He has worked on a number of statewide planning studies, regional studies, and local land use and economic development freight studies.  Some of his recent freight projects include:
Minnesota District Freight Plans – Greater Minnesota
Minnesota Statewide Truck Parking Study
Minnesota District 3 Freight Manufacturer's Study
Minnesota Statewide Freight System Plan
Minnesota Freight Rail Economic Development Study
Minnesota Integrating Freight into Statewide Planning and Programming Study
Rail Access Study, Grand Forks, North Dakota
Railroad Safety Review Study, La Crosse County, Wisconsin
Northern Lights Express, Hinckley Loop Alternatives Analysis, Minnesota
Rail Mitigation Study, South St. Paul, Minnesota
Train Whistle Quiet Zones. Andy has been involved in numerous quiet zone assessment studies throughout the United States since the Final Quiet Zone Rule was passed in 2005. To date, he has been involved in more than 75 quiet zone projects, totaling approximately 700 rail crossings. Andy has been responsible for leading all components of quiet zone projects and has worked closely with stakeholders, review agencies, and rail officials.  He also serves on the Board of Directors for Minnesota Operation Lifesaver – a non-profit agency focusing on reducing highway-rail incidents. Andy's extensive knowledge of the Final Quiet Zone Rule and experience with quiet zones has been widely recognized. He has been invited by numerous organizations to give presentations. He often presents information about quiet zone projects at both national and regional conferences.
Traffic Incident Management. Andy is an industry leader in developing traffic incident management strategies to improve safety and operations. His projects include emergency response planning efforts in Iowa, Minnesota, Missouri, Wisconsin, and North Dakota. Highlights of his work include his involvement assisting WisDOT's Central Office and all five regions on the development of Emergency Alternate Route Guides and various policy issues as they relate to traffic incident management. As a member of the National Traffic Incident Management Coalition (NTIMC), Andy is familiar with many of the leading initiatives at the federal level and incident management initiatives other states are pursuing.